Tama Ma
THE AUTOBIOGRAPHICAL JOURNEY OF NEW ZEALAND'S LEADING DANCE DUO. A CONTEMPORARY DANCE PERFORMANCE THAT EXPLORES TWO LIVES WITH INSIGHT, SENSITIVITY AND RAW HUMAN DRAMA.
Four of the strongest voices in New Zealand Dance combine their talents to bring a powerful and evocative dance performance to the stage. Presented as a five act autobiographical dance journey; Tama Ma is powerfully performed by Taane Mete and Taiaroa Royal; the distinguished Douglas Wright choreographs Act Two, while the extraordinary talents of Michael Parmenter shape Act Four. Tama Ma tells the story of two men who travel from boyhood to manhood, and their real life tale of love, life, joy and sorrow. The five part act moves from a short dance film projected on stage to a drag queen's journey to femininity and the return back to masculinity. A young boy's connection to his whanau (family) and iwi (tribe) and a mature man's ideas of identity are also deeply explored. Tama Ma premiered in Auckland at the Tempo Dance Festival October 2008, and went on to a four centre national tour in 2009, with phenomenal audience feedback and critical acclaim.
"Tama Ma is a sensational new dance work which is inspiring, simple and honest as well as a bit raunchy and clever." John Daly-Peoples, National Business Review
"Tama Ma, the hit dance show by Taane Mete and Taiaroa Royal, is a must see event! It is rare to see such complicity and love expressed on stage; their partnership is extraordinary." Lyne Pringle, Theatreview
"We do not often see choreography that is so deeply drawn from a core of Māori culture and personal experience… This is profoundly important theatre." Jennifer Shennan, Dominion Post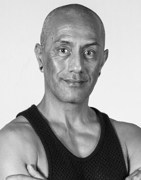 Taiaroa trained at the New Zealand School of Dance, graduating in 1984. He has since performed with major dance companies both at home and abroad, including The Royal New Zealand Ballet, Douglas Wrightand Dancers, Michael Parmenter's Commotion Company, Black Grace, Orotokare and Atamira Dance Company. Tai has successfully choreographed many high profile events across Australasia including the Brancott Estate World of Wearable Arts Awards in Wellington, Auckland's Christmas in the Park and over the past 3 years has choreographed operas for NZ Opera. Tai is also part of the teaching faculty at the UNITEC Bachelor of Performing Screen Arts, and has taught at The New Zealand School of Dance as well as many private dance schools.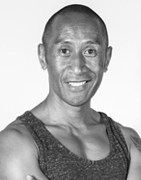 Taane Mete graduated with honors from the New Zealand School of Dance in 1988. His performing experience has seen him dance with companies such as Footnote Dance Company, Douglas Wright Dance Company, Taiao Dance Company, Fusion Dance Theatre, Michael Parmenter's Commotion Company, The Royal New Zealand Ballet, The Human Garden, Mau Dance and Atamira Dance Company. In 2005 and 2006, Taane worked as a television presenter for the program Takataapui. Taane graduated from the Leadership New Zealand Program in 2008 and continues to advocate a leadership role in the dance community. Now into his 30th year as a performer Taane continues to develop exciting new projects for the company repertoire
MEET THE TEAM BEHIND MANA WAHINE
2014
HOLLAND: Holland Dance Festival
2011
BRISBANE, AUSTRALIA: Brisbane Pow
2010
ADELAIDE, AUSTRALIA: Selected scenes at the Australian Performing Arts Market
LAKE TAUPO, NZ: Erupt Arts Festival
HASTINGS, NZ: Hawkes Bay Opera House
NELSON, NZ: Theatre Royal
PERTH, AUSTRALIA: Strut Dance,Dolphin Theatre
2009
BEIJING, CHINA: Selected scenes at the International Symposium on Chinese and Pacific Music: Pito (Act 1 film) and Hand to Hand (Act 4)
HAMILTON, NZ: WEL Energy Trust Academy for Performing Arts Playhouse
AUCKLAND, NZ: Maidment Theatre
WELLINGTON, NZ: Soundings Theatre, Te Papa
CHRISTCHURCH, NZ: Body Festival of Dance, James Hay Theatre
2008
CINCINNATI, USA: Premiere of Hand to Hand (Act 4) at the Lance Armstrong Foundation benefit concert in support of cancer research The Living Dance Project
AUCKLAND, NZ: Premiere season at Tempo Dance Festival, Concert Chamber Auckland Town Hall